TASTE NATURE SOCIAL ENTERPRISE AT
HOLY CROSS MOSGIEL
Rooted in the heart of Dunedin, Taste Nature Social Enterprise, led by founder Clinton Chambers, is a beacon of sustainability, resilience, and community integrations. With strong ties to the historic Holy Cross, a symbol of endurance in our city for over a century, we embrace the values of People, Planet, and Integrity. Our mission is to cultivate sustainability, promote regenerative practices, and instill teaching resilience in every corner of our community. Through educational programs designed with holistic well-being in mind, we empower individuals and families with the knowledge they need to thrive.
150 YEARS OF HISTORY
THE NAMING OF MOSGIEL
The original homestead was built in 1876 and was owned by Arthur Burns – the grand nephew of the Scottish poet Robert Burns and son of the Rev Dr Thomas Burns who was the first Chancellor of the University of Otago and the first Presbyterian Minister in Otago. Arthur Burns founded the Mosgiel Woollens mill in 1871 and named the town 'Mossgiel' after Robert Burns' farm in Ayrshire, Scotland. Arthur Burns played a prominent role in Dunedin's provincial affairs and had also been a member of the House of Representatives on three occasions.
The Southernmost Seminary
In 1899, Bishop Verdon, the second Bishop of Dunedin, purchased the original Burns Homestead to found a National Catholic Seminary. In 1899, Bishop Verdon journeyed to Rome to obtain the Pope's blessing for the project, and Pope Leo XIII, the Pope of the time, gave his blessing. The centre opened on May 3, 1900 and was a high school preparatory as well as a seminary teaching arts, philosophy and theology. The cost per year was 35 pounds providing board, lodging, food, tuition and school books. The only extra charge was 1.10 pound for washing. The first student at the newly opened seminary was Cecil Morkane, who would become Monsignor Morkane. After completing his training at Holy Cross, Manly and in Rome, he was ordained in 1907 and appointed curate at Lawrence. In 1910 he was appointed to the professorial staff at Holy Cross College by the Vincentian Fathers and became rector in 1920. Newer additions to the centre occurred in the 1960s and the Verdon chapel in honour of Bishop Verdon was opened in 1963, and the original student block was opened in 1968.
We Remember Them
One of the first priests ordained at the centre was Father James McMenamin, who was a chaplain with the New Zealand Army and went to Gallipoli in 1915. He was killed in action in Belgium in 1917. the Cluny Sisters came from Ireland to Holy Cross Seminary in Mosgiel in 1949 to provide domestic staff for the seminary. They were of the order of St Joseph Cluny, which was founded in 1807 by Saint Anne-Marie Javouhey of France to educate and care for the children of the poor. The sisters continued this work at the seminary for nearly 40 years.
Present and Future
The seminary was closed In 1998 and relocated to Auckland. In 2015, the centre was relaunched as Burns Lodge, drawing on the early settlers heritage of Dunedin. Burns Lodge offered for the first time a commercial accommodation and conference centre for community and cultural groups to stay in and enjoy. Many school, musical, sporting and cultural groups have stayed at the centre over the years and enjoyed its unique history. In 2023, Taste Nature signed a lease with the Dunedin Diocese to take over the business to offer long term accommodation options and to establish the official home for the Taste Nature Social Enterprise. Taste Nature brings a new lease of life to the historical buildings and re-purposing a much needed resource for Dunedin.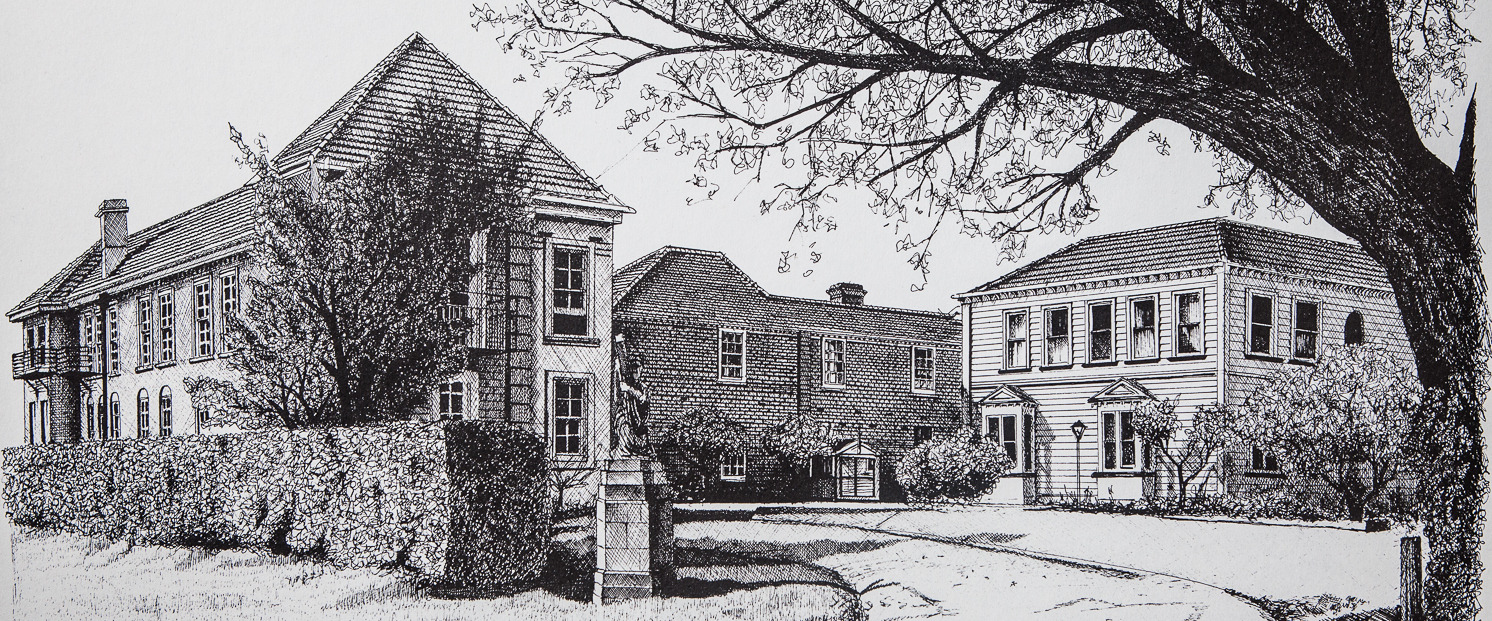 THE CLIMATE CHANGE RESILIENCE HUB
BURNS HOUSE
Time to Adapt to our Climate Changing
The world is already experiencing changes in average temperature, shifts in the seasons, and increasing frequency of extreme weather events. The faster the climate changes and the longer adaptation efforts are put off, the more difficult and expensive responding to climate change will be.
The climate has warmed by 1.1°C in the past 100 years – we are already seeing the devastating effects. We can expect to continue to see rising sea levels, more extreme weather events, and increased risk of wildfire and drought. We can meet the challenges of a changing climate – but there is no time to waste. We need to take action now.
Adaptation is a continuous process of assessing and managing risk, evaluating the effectiveness of actions taken and adjusting those actions as needed. By adapting to the unavoidable effects of climate change, we become more resilient to those risks.
Communities are diverse, and experience the impacts of climate change in various ways. Building and maintaining strong communities will equip New Zealanders with the right tools to adapt and mitigate these impacts. Communities that are resilient in the face of climate change will be empowered to respond to risks and work together to support social, economic, and cultural wellbeing
The Taste Nature Social Enterprises objective is to develop education programs to empower our community to become more resilient in the face of climate change. Holy Cross was chosen for the site of our Climate Change Resilience Community Hub. Under Taste Nature Learning Community (TLC), we aim to provide a selection of classes
on sustainability and self-sufficiency.
Learning self-sufficiency also contributes to reducing the cost of living. Classes will be offered during the day for children and a variety of night classes for adults.
Burns House, the original historical structure at Holy Cross, will become the learning community hub. A 150 year old structure our goal is to restore as much of the structure as possible to give it a new lease of life. The majority of restoration work will be cosmetic works including the removal of false ceilings, reinstating plaster ceiling detail, removal of painted sections to reveal woodwork and upgrade of electrics and plumbing. The work will prepare the structure for a new life of community service.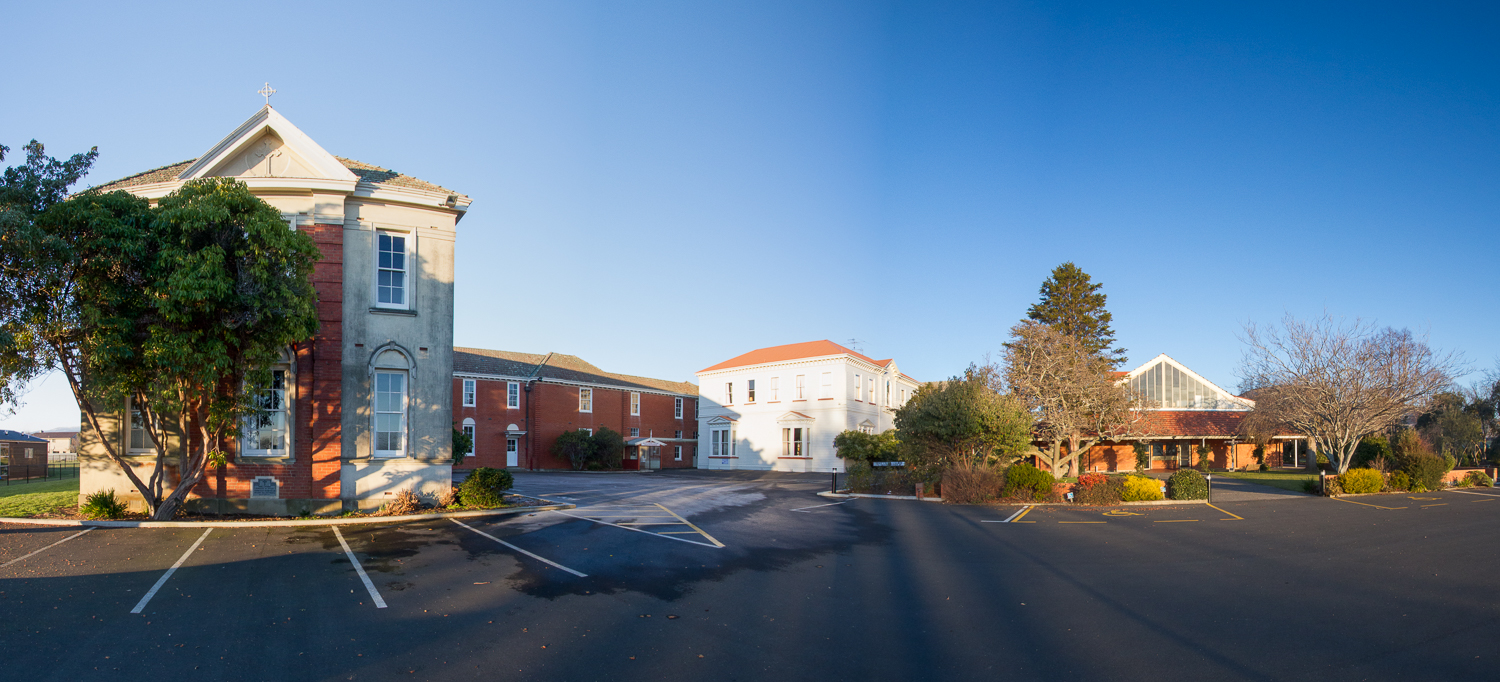 Long Term Accommodation at Holy Cross
College Block Rooms
College Block
Ground level, plus level 1, 2 & 3. Includes shared bathroom, lounge & kitchen facilities.
Single/Twin College Room, single beds, includes bed linen, Wi-Fi , towels & weekly service
Total Rooms 52 prices include gst.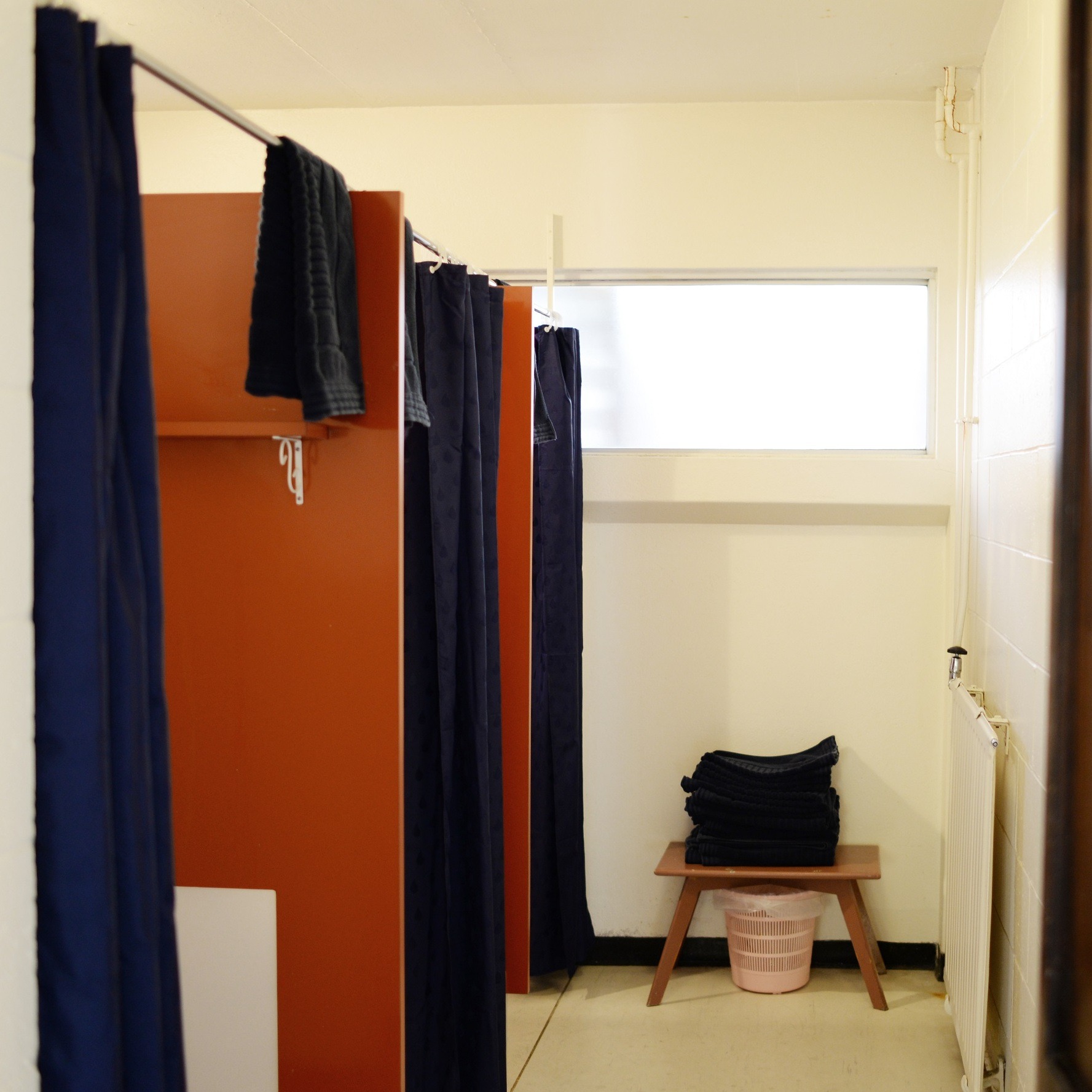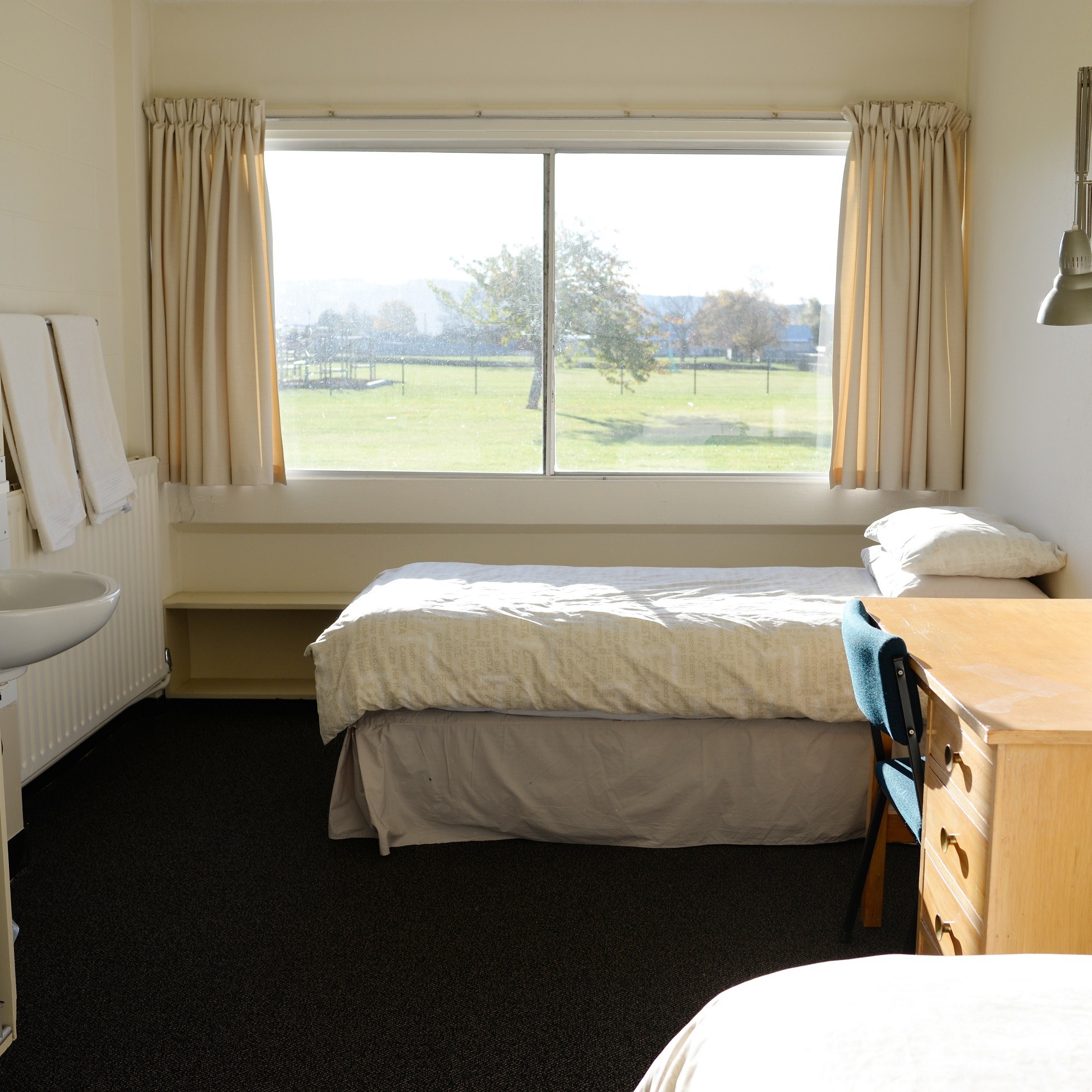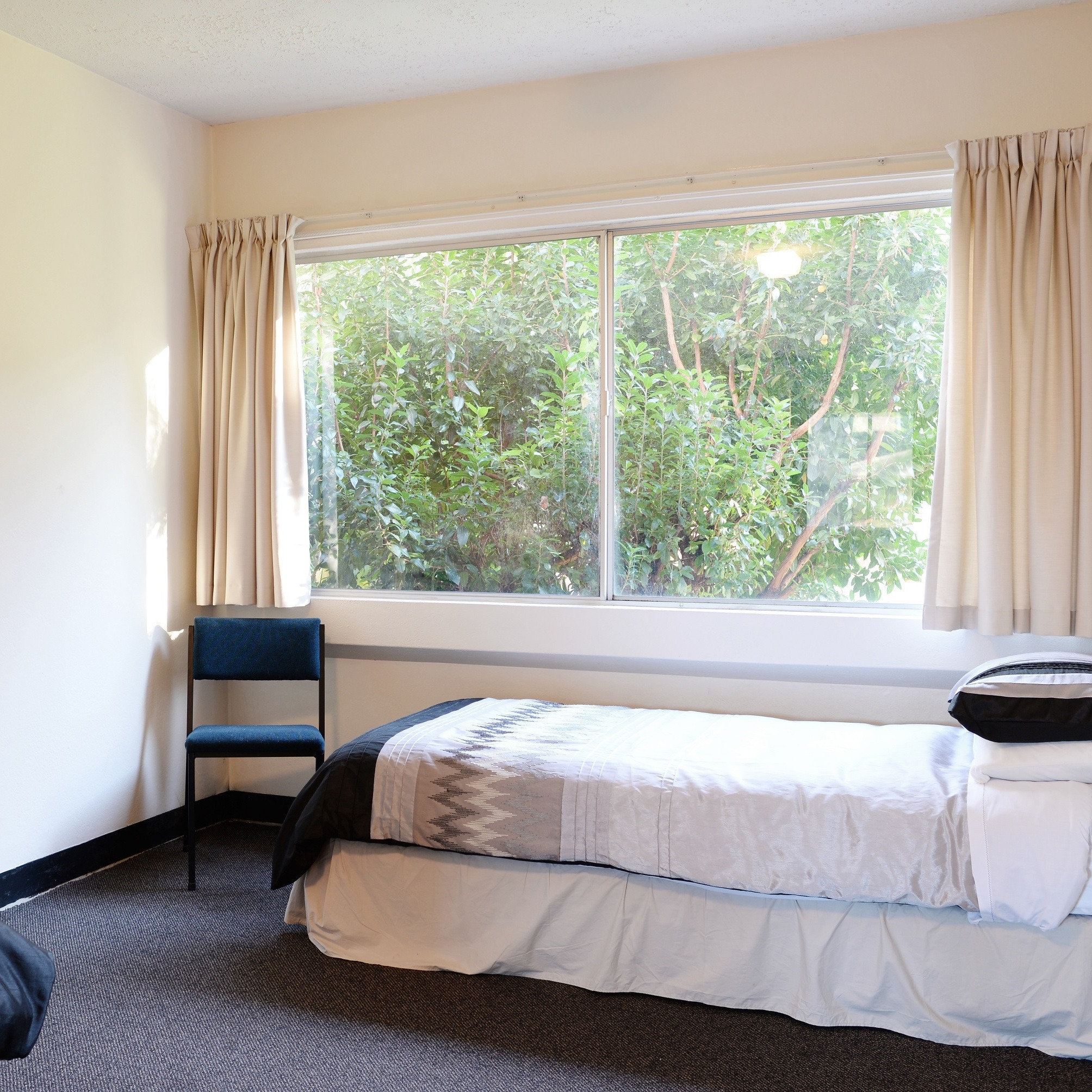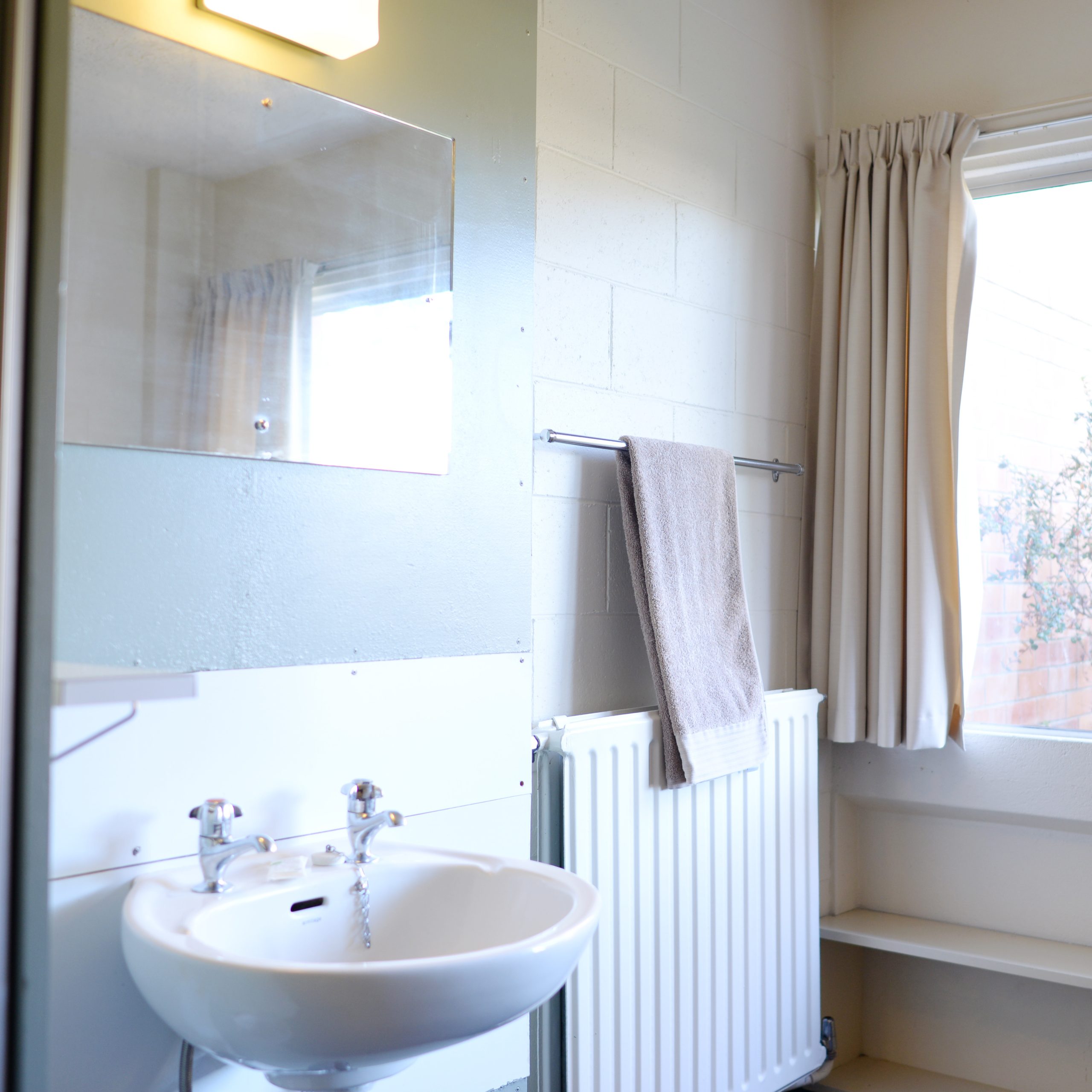 Hostel Rooms
Ground & 1st level in the Monsignor Morkane Wing.
Includes shared bathroom, communal lounge & kitchen facilities.
Single Hostel Room, Own Private Room, 1 x single bed, bed linen
Total Rooms 30 prices include gst.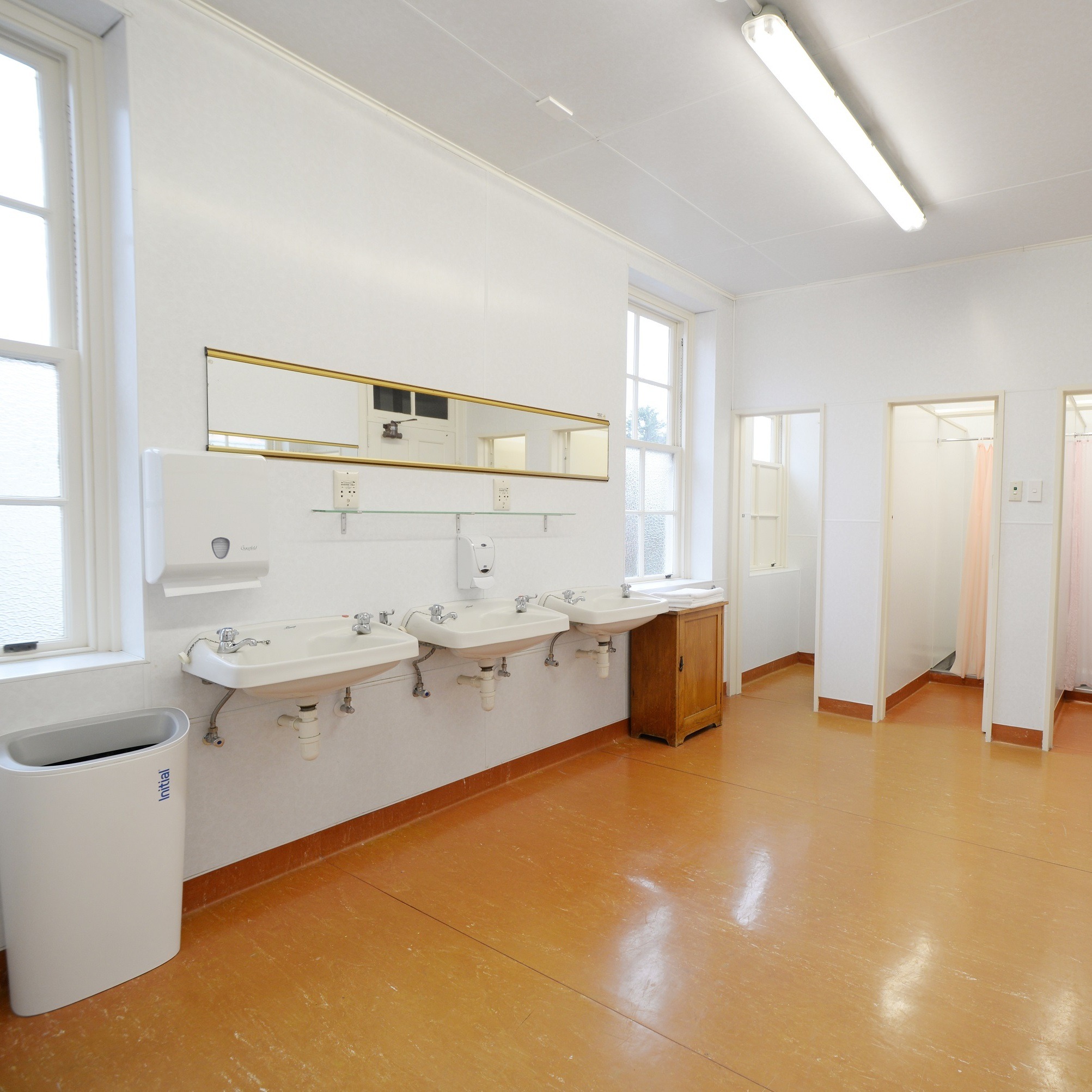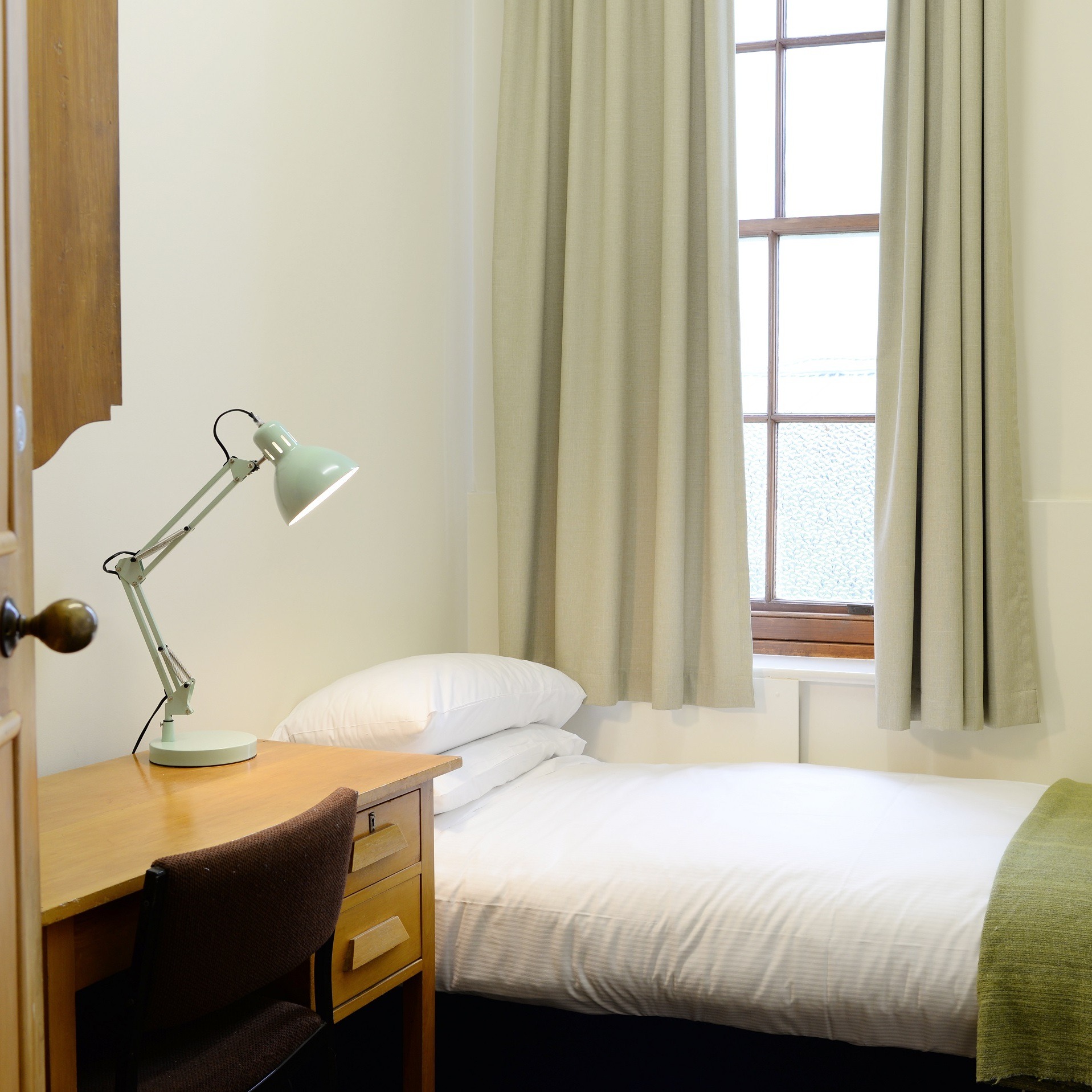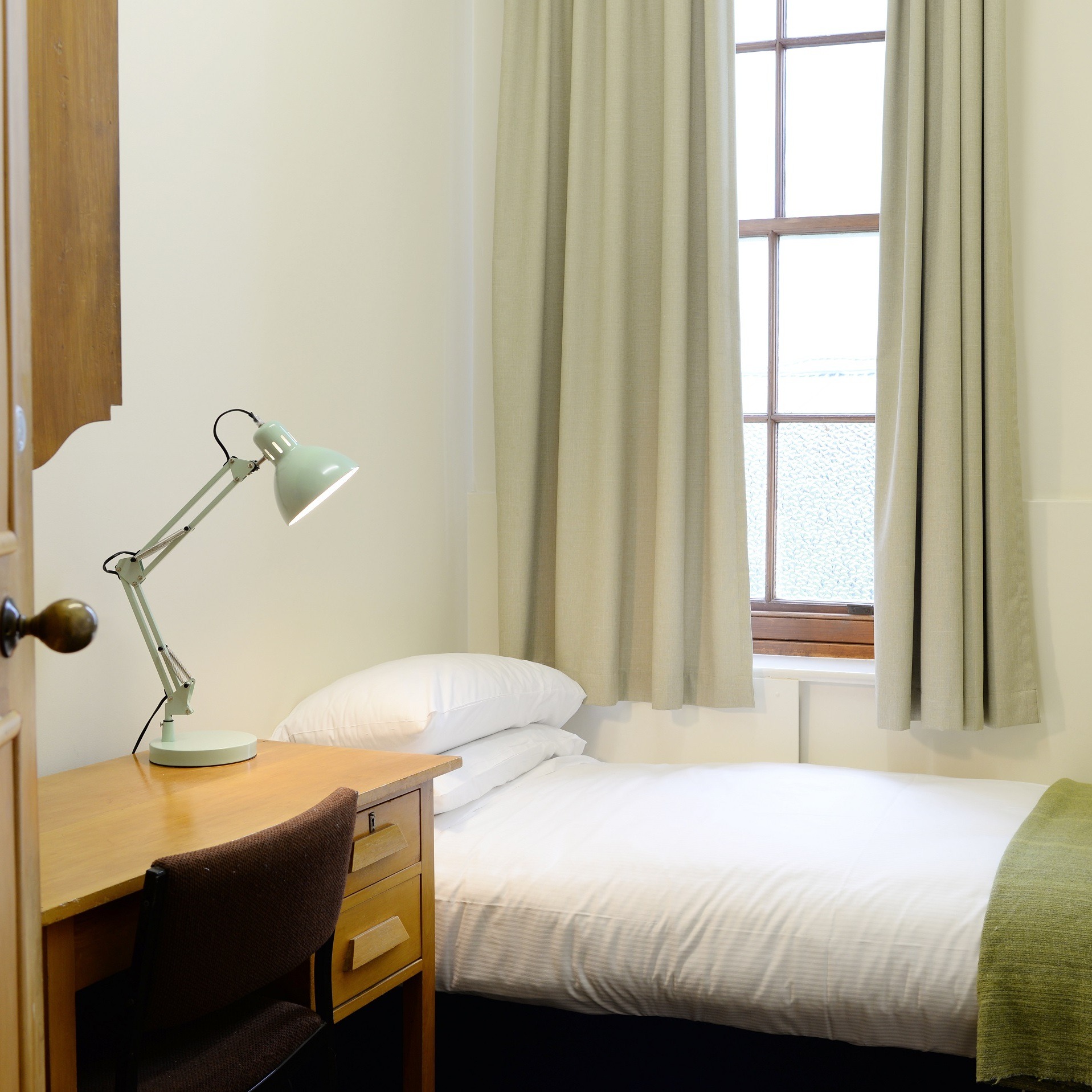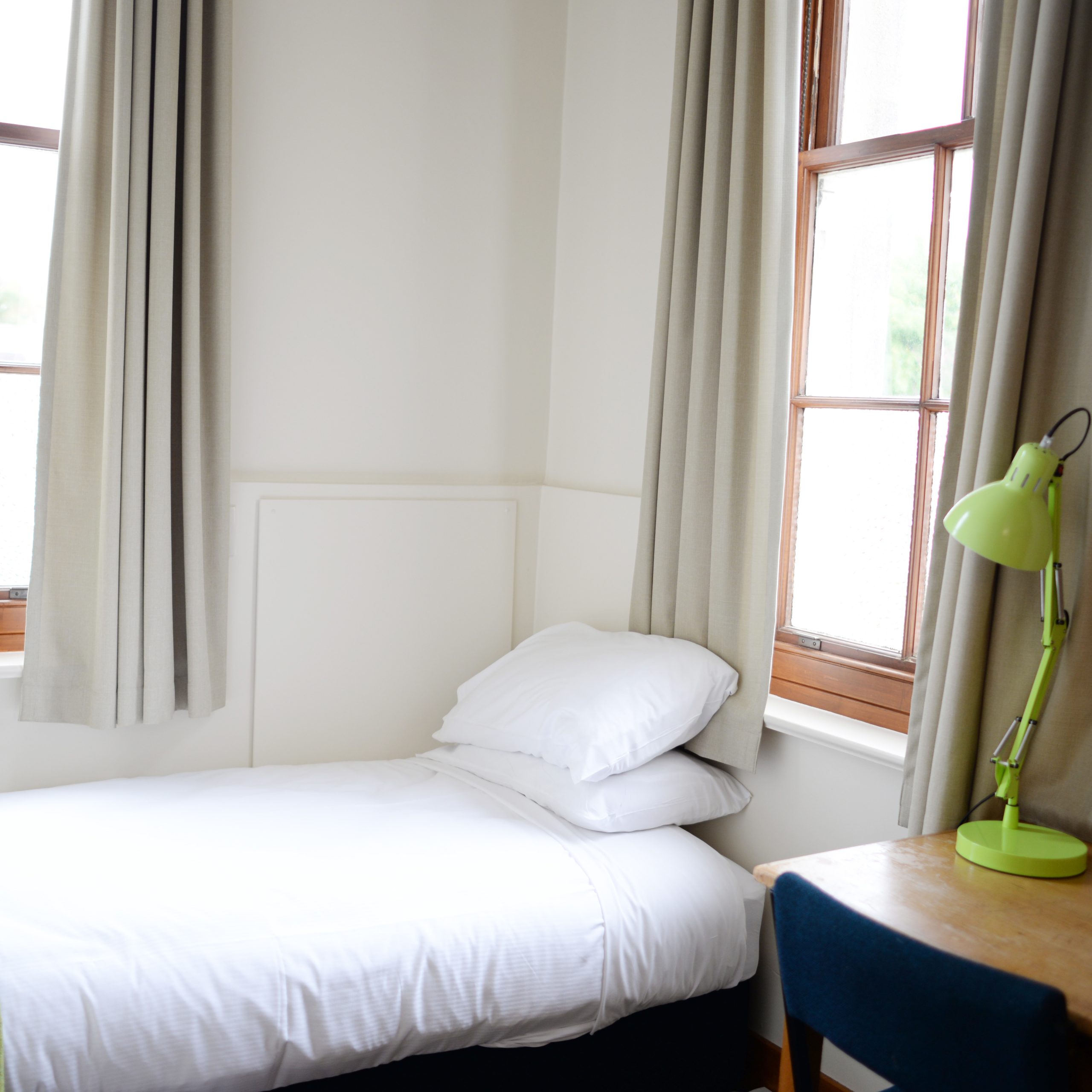 D
eluxe Rooms
Located on level 1 in the Wright Wing. Includes Freeview TV, tea & coffee, fridge, microwave, Ensuite bathroom
 Access to communal kitchen facilities.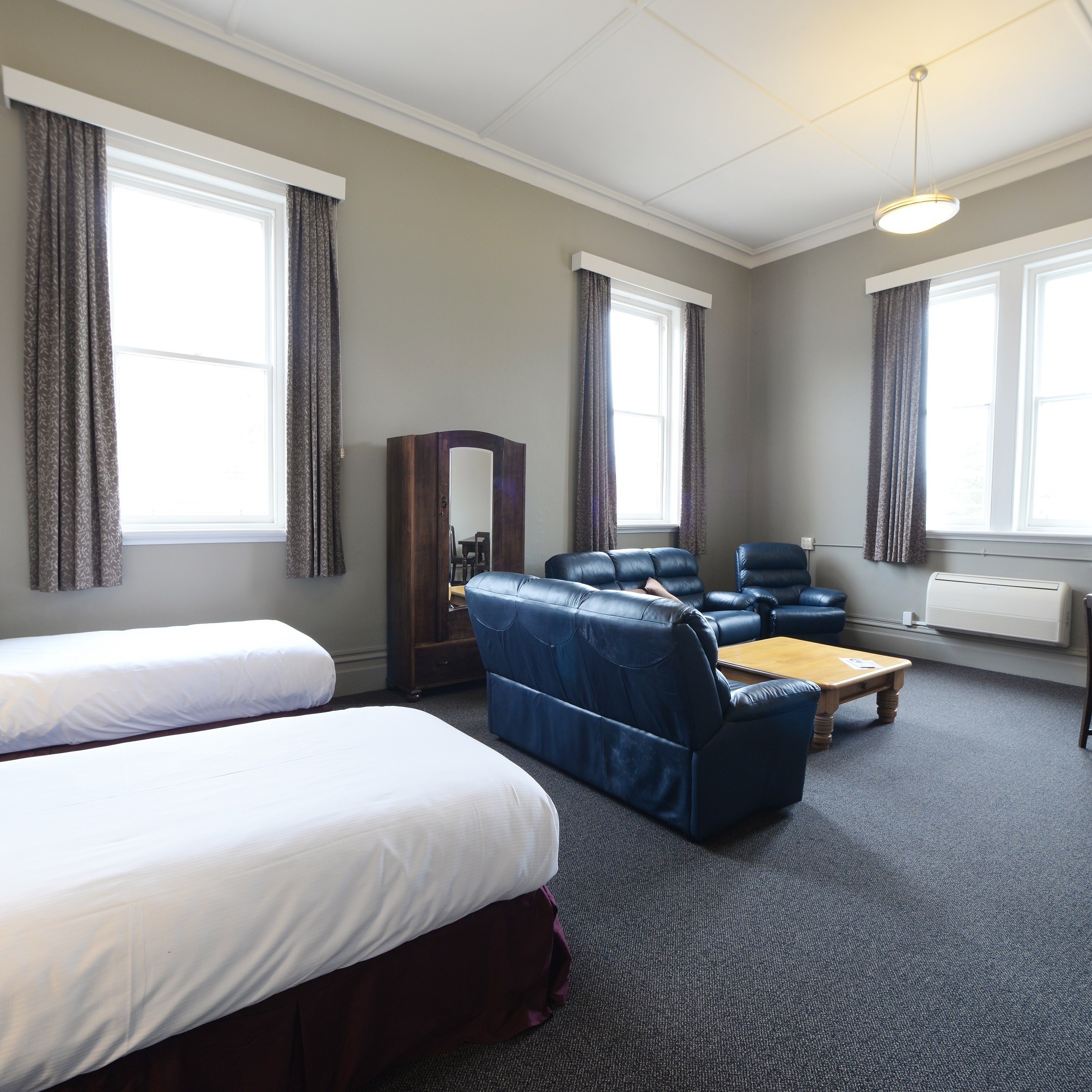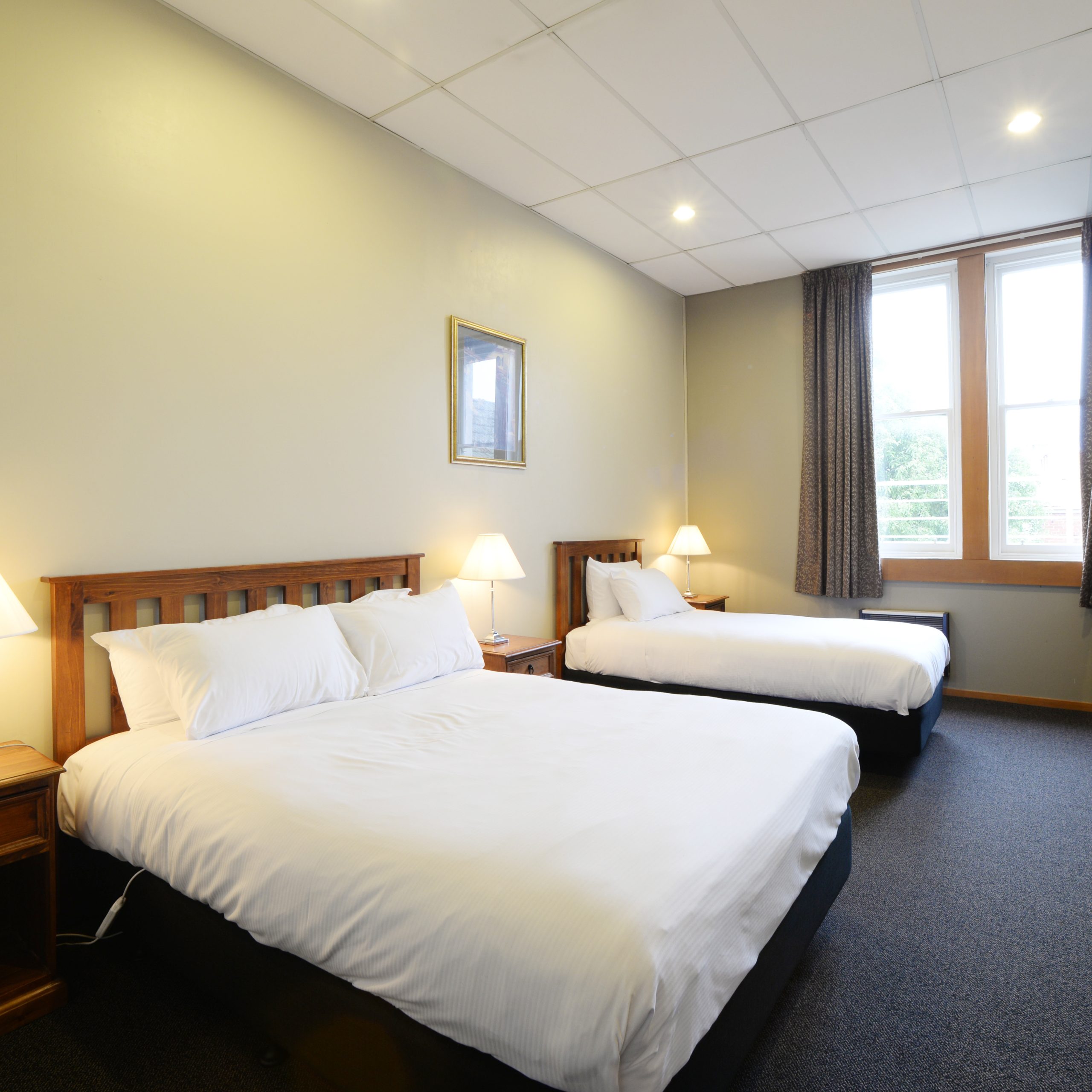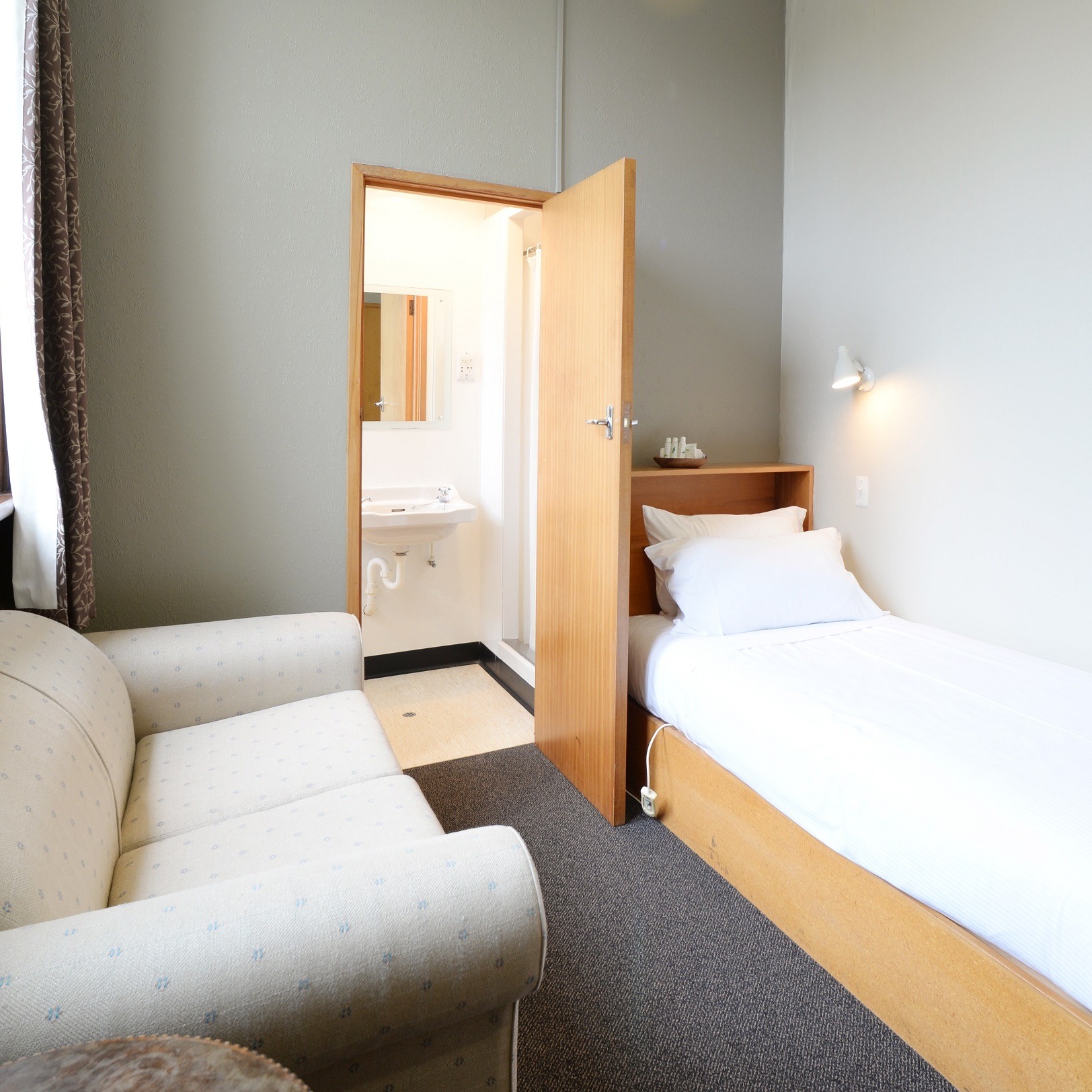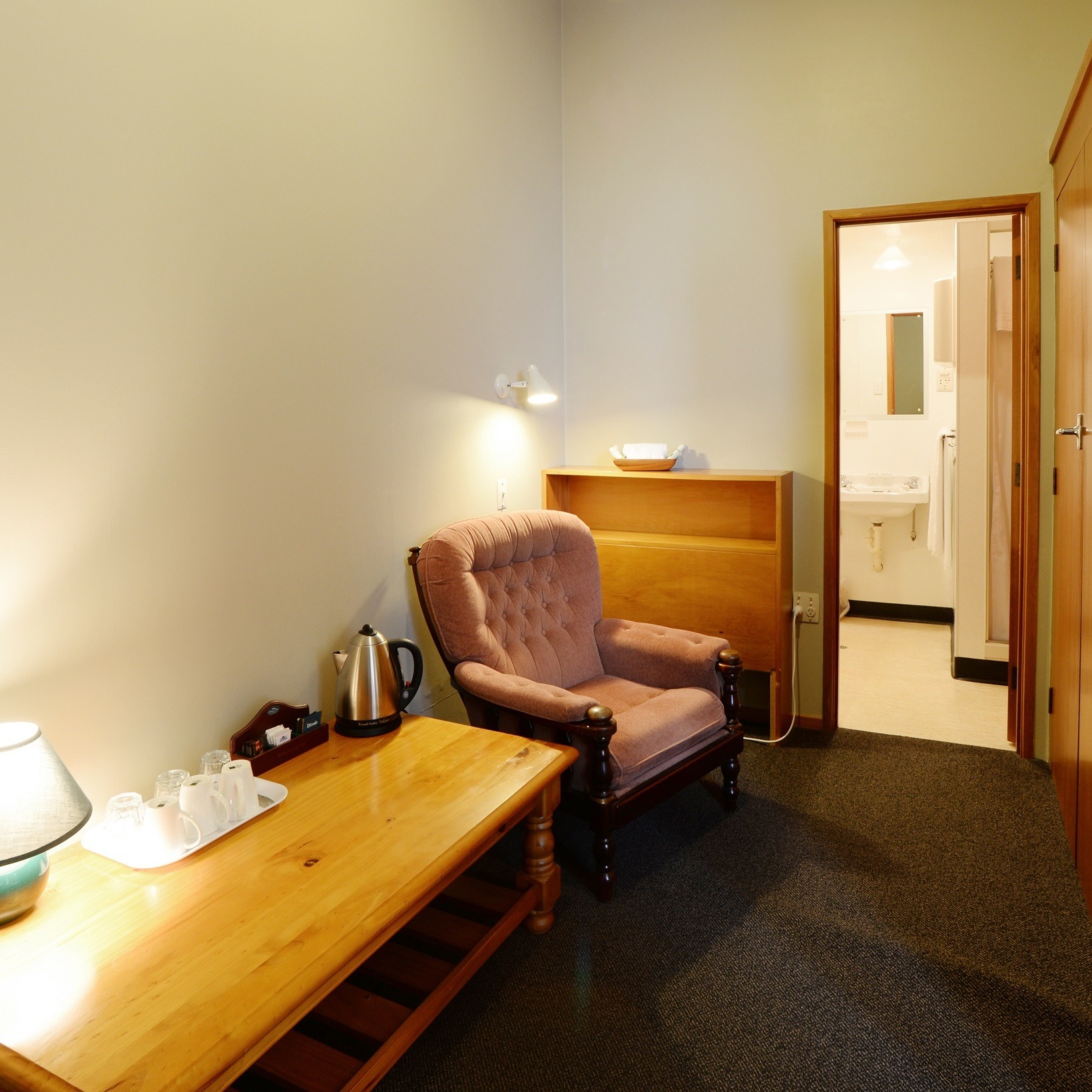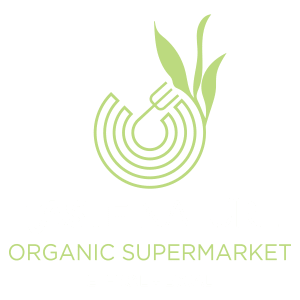 Shop & Deli
Mon-Fri: 8-6pm
Sat: 9-4pm
Sun: Closed
Kitchen
Mon-Fri: 8-2pm
Sat: 9-2pm
Sun: Closed
Public Holidays
We are CLOSED on all public holidays.
Espresso Coffee
Mon-Fri: 8-5pm
Sat: 9-3pm
Sun: Closed